Student Portal
 Growing in Faith Growing in Christ
Our schools use the Growing in Faith, Growing in Christ program for Religious Education.
Growing in Faith, Growing in Christ features a Student-Home website with videos, songs, bible stories, prayers, interactive activities and more -- all designed for students and families to explore their faith together.
Log in at:
https://media.pearsoncanada.ca/intl/pec/school/ca_sch_religion_sso/
UserName: Eics99
Password: Student99
Parish Connection
Growing in Faith, Growing in Christ website for parish and pastoral teams to link the school to parish activities.
UserName: Eics_parish
Password: Religion1
PowerSchool and Canvas Log in
PowerSchool is the online conduit where students' marks and teacher comments can be found. PowerSchool gives parents and students continuous access to key information about students' learning.
Canvas is a course management system that supports online learning and teaching. It allows instructors to post information, and assignments online. 
High School Diploma Requirements
For ALL Students - Student MyPass Account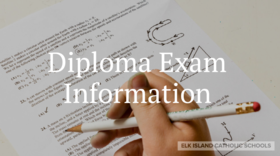 MyPass is the Alberta government's online application for students:
to order high school transcripts in English or French
view diploma exam marks
register to write or rewrite diploma exams with online payment
It's also important for all grade 10-12 students to monitor credits and course enrollments to ensure there are no errors.
 Option 1) To set up your account:
You need is your *Alberta Student Number and a personal email address (not your school email address). Contact Ms. Mangatal nataliem@eics.ab.ca if you need help locating the number)
* Your ASN number can be found on PowerSchool
2. Visit: https://public.education.alberta.ca/PASI/myPass/welcome
3. Click on "Sign in with Education Account". Enter your personal email address, and click "I'm new sign me up"
4. Complete the requested information. A PIN Access code will be mailed to you in a week's time. The PIN will allow you to complete the login process.
Please note: Parents can create an account for themselves as well by following the steps listed above. 
Option 2) To have the school set up your account: 
Fill out the Google Form to have SILC assist you with the setup of your myPass account. 
Registering for a Diploma Using MyPass