Student Portal
 Growing in Faith Growing in Christ
Our schools use the Growing in Faith, Growing in Christ program for Religious Education.
Growing in Faith, Growing in Christ features a Student-Home website with videos, songs, bible stories, prayers, interactive activities and more -- all designed for students and families to explore their faith together.
Log in at:
https://media.pearsoncanada.ca/intl/pec/school/ca_sch_religion_sso/
UserName: Eics99
Password: Student99
Parish Connection
Growing in Faith, Growing in Christ website for parish and pastoral teams to link the school to parish activities.
UserName: Eics_parish
Password: Religion1
PowerSchool and Canvas Log in
PowerSchool is the online conduit where students' marks and teacher comments can be found. PowerSchool gives parents and students continuous access to key information about students' learning.
Canvas is a course management system that supports online learning and teaching. It allows instructors to post information, and assignments online. 
High School Diploma Requirements
For ALL Students - Student MyPass Account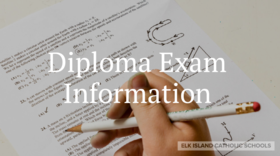 MyPass is the Alberta government's online application for students:
to order high school transcripts in English or French
view diploma exam marks
register to write or rewrite diploma exams with online payment
It's also important for all grade 10-12 students to monitor credits and course enrollments to ensure there are no errors.
 Option 1) To set up your account:
You need is your *Alberta Student Number and a personal email address (not your school email address). Contact Ms. Mangatal nataliem@eics.ab.ca if you need help locating the number)
* Your ASN number can be found on PowerSchool
2. Visit: https://public.education.alberta.ca/PASI/myPass/welcome
3. Click on "Sign in with Education Account". Enter your personal email address, and click "I'm new sign me up"
4. Complete the requested information. A PIN Access code will be mailed to you in a week's time. The PIN will allow you to complete the login process.
Please note: Parents can create an account for themselves as well by following the steps listed above. 
Option 2) To have the school set up your account: 
Fill out the Google Form to have SILC assist you with the setup of your myPass account. 
Registering for a Diploma Using MyPass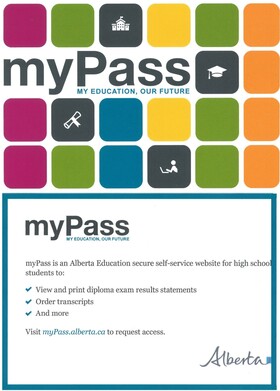 Scholarship Information- Why Should You Apply?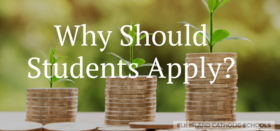 Why should you apply?
Scholarships, awards and bursaries represent free money, which helps students avoid taking out large student loans and graduate with less debt. It's free money!
Did you know that winning a scholarship looks great on your resumé? Employers look for students who have shown the initiative to apply for student awards. Also, having been selected as an award recipient based on community service, academic achievement, leadership and/or campus involvement is a great accomplishment.
There are endless scholarships available and applying could be well worth your time. Many businesses, organizations and individuals enjoy giving back by sponsoring student awards, assisting students in achieving their educational goals with less financial burden.
Take advantage of this window of opportunity while you're a student!
Types of student awards:
Internal awards – money donated to the Olds College awards program and administered by the school. Students who are enrolled in an Olds College program at the time of application are eligible. Most post-secondary institutions will have their own internal awards that they give out every year. Be sure to browse to see what's out there.
External awards – External awards are administered according to the terms and criteria set by the sponsor. External awards are open to any post-secondary student and have varying deadlines and eligibility requirements. Students apply directly to the sponsor. You can find many awards of this kind on ScholarshipsCanada.com.
Many times, awards are not given out because no one applies! There are many reasons that students may not apply: concerns about GPA, income, time management, and others. Still, most students are eligible for some sort of award, so don't count yourself out too soon!
3 common myths around student award applications:
My GPA isn't high enough to be considered.
There are some scholarships based on top academic achievements — but most will consider any student who has achieved a satisfactory GPA.
My parents' income is too high so I won't qualify for bursaries.
Financial need reporting is based on the student's financial situation at the time of application. Unlike a student loan, this does not include your parents' income statement. Based on the fact that most students cannot work full-time while attending post-secondary studies, they are usually in financial need. Even if you don't think you have substantial financial need, go ahead and apply for bursaries.
I don't have time to apply.
Make use of a long weekend — or that spare block in your timetable — to complete your application! You may be rewarded $500, $1,000, or even more, for just a couple of hours of effort. The Student Awards team at Olds College offers Student Award Application Sessions throughout the year to assist students with the application process.
Start your search for student awards now. Check out the Olds College scholarship page for student award opportunities available! Students apply for internal awards after they begin their program at Olds College.
Other institutions may have students apply for awards before they begin their studies, so make sure you're aware of application deadlines!
Some external awards may allow you to apply with an early letter of acceptance to your program. Review the list of external awards available on Olds College scholarship page, alongside a few helpful hints, to search out even more!
*Information retrieved from https://www.schoolfinder.com/Discover/Article/1/5163/Show-Me-the-Money!-Why-YOU-Should-be-Applying-for-Scholarships on November 30, 2021
Alexander Rutherford High School Achievement Scholarship

his scholarship was named in honour of Alexander Rutherford, who had the distinction of being Alberta's first Premier and Minister of Education. He was known for his strong support of public education, particularly the University of Alberta and his active involvement in community affairs.
Purpose
To recognize and reward academic achievement of senior high school students and encourage them to pursue post-secondary studies.
Value
Up to $2,500
Eligibility
Apply once your official high school transcript marks are available and when you are enrolled in full-time post-secondary studies. Requirements for high school transcript marks will vary.
       
To receive this scholarship, you must also meet all of these eligibility criteria:
Be a Canadian Citizen, a Permanent Resident of Canada or Protected Person under
Canada's Immigration and Refugee Protection Act, (Visa students are not eligible);


Be an Alberta resident, and to be considered an Alberta resident the following conditions must apply:

one parent or legal guardian must have maintained permanent residence in Canada for at least 12 consecutive months immediately prior to the applicant commencing a program of study;


applicant has maintained permanent residence in Alberta at least 12-months prior to commencing a program of study;


applicant is not eligible to receive a scholarship with respect to any grade unless the applicant or the applicant's parent(s)/legal guardian were a resident in Alberta throughout the whole of that grade. 
Have completed high school on or after September 30, 1980.


Be enrolled in a full course load in a designated post-secondary or an apprenticeship program of at least one semester in length.
You may only be awarded the Alexander Rutherford scholarship once.
Selection
A student must have a minimum combined average based on five designated courses in at least one grade. Grade 10, 11 or 12 as calculated from:
Alberta Residents
Courses/marks on an official Alberta Transcript of High School Achievement


Completed High School Outside Alberta
Courses/marks that appear on an official high school transcript attained in another province
Students will automatically be considered for the following awards when they apply for the Alexander Rutherford Scholarship. There is no separate application required for these awards.

Deadlines 
Apply online when your official high school marks are available and when you are enrolled in full-time post-secondary studies. 
Disbursement
Once your enrollment or attendance has been confirmed by your post-secondary institution, Alberta Student Aid will mail a cheque to you within one month.
ALIS (Alberta Learning Information System)
ALIS (The Alberta Learning Information System) is a provincial online source for career, learning and employment information.
Go to alis.alberta.ca
Students can click on "I am still in High School" where students can then explore content on "Plan Your Career", "Explore Education and Training", "CAREERinsite", or "OCCInfo", all of which are incredible resources that holistically support students as they plan for after high school.   
Other Scholarship Websites