Frequently Asked Questions
How do I log into Canvas and my Email?
If the student already has access to their EICS email (studentnumber@eics.ab.ca) then do the following: 
1) In Chrome, log into your EICS email 
2) With your email tab still up, open a new tab and go to eics.instructure.com The open email should automatically authenticate your Canvas account.
Note: If the student has not yet accessed their EICS email, follow the instructions in this video:
How do I reach out to my teachers?
By email is best. You can always make appointments to Google Meet or make an appointment for an in-person visit at the SILC Centre as well.
How do I access exam codes?
Your teacher will pass on exam codes once you are ready to write your exam. Your midterm and final exams will be different.
How do important exams like midterms and finals work?
Your teacher will arrange an appropriate time and place for your exam. If you live in the greater Edmonton area, you will come into the SILC Centre to write. If you are out of town, you and your teacher will make appropriate arrangements.
What tools will I need to participate in class?
A strong Wi-Fi connection, a laptop or Chromebook are required. Phones or iPads are convenient to do scans of handwritten docs and Google Meets with your teachers, but are not the most reliable to work from.
Do the classes use textbooks?
Some classes do use textbooks. Your teachers will let you know. You can come and sign them out from the SILC Centre. You can always have them mailed for a fee, too.
Canvas Parent App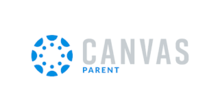 Canvas (LMS) has created the Canvas Parent App for parents and/or guardians can support their Canvas learners. As a Parent/Guardian you can: 
View Due Dates
Read instructions 
Check calendar 
Communicate with teachers
Search Elk Island Catholic Schools Catholic Schools- Parents in the App store. For further directions and information regarding Canvas Parent check out: